2020 INFINITI QX50 vs. 2020 Acura RDX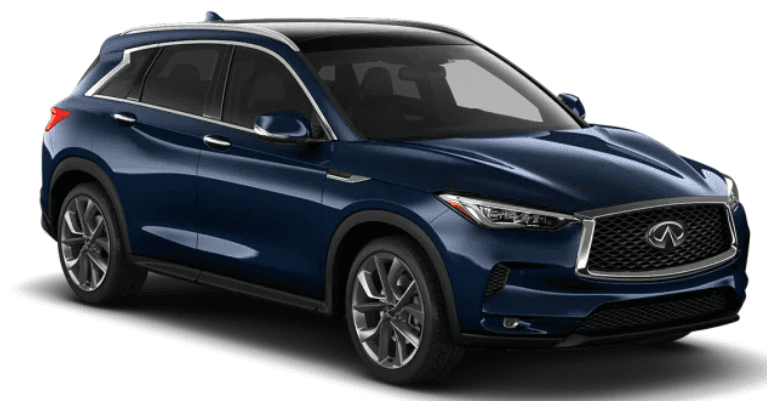 Looking to purchase a vehicle with best-in-class combined fuel efficiency? What about a high-performance, highly-efficient turbocharged engine? Well, these are just a few of the things that separate the 2020 INFINITI QX50 from one of its competitors, the 2020 Acura RDX. Interested in hearing more about the QX50? Allow our INFINITI of Mobile dealer to explain why this model is the best SUV in its class.
Variable Compression Turbo Engine
Typically, the words "performance" and "efficiency" are very rarely found together in the same sentence but with the INFINITI QX50's Variable Compression 2.0-liter, 4-Cylinder Turbo Engine, the compromise between power and economy has finally met its demise.
Being equipped with the world's first production engine of it's kind, the QX50 can automatically switch from high performance to high efficiency in fractions of a second and will amplify each and every driving experience while still yielding a fuel economy on par with some hybrid models. While you won't be able to find this type of innovation in the 2020 Acura RDX, there's no need to worry because it will come standard in every 2020 INFINITI QX50.
Additional areas that the QX50 thrives compared to the 2020 RDX:
Combined Fuel Efficiency
2020 INFINITI QX50: 27 MPG
2020 Acura RDX: 24 MPG
Second-Row Legroom
2020 INFINITI QX50: 38.7″
2020 Acura RDX 38.0"
Cargo Volume
2020 INFINITI QX50: 31.4 cu. ft.
2020 Acura RDX: 29.5 cu. ft.
Direct Adaptive Steering
2020 INFINITI QX50: Standard
2020 Acura RDX: Unavailable
Around View Monitor
2020 INFINITI QX50: Standard
2020 Acura RDX: Unavailable
In addition to the list of features highlighted above, Mobile area drivers will be delighted to hear that each INFINITI QX50 comes equipped with Predictive Forward Collision Warning to help reduce the risk of a potential frontal accident. You've probably picked up on the trend already, however, if you didn't, this feature is nowhere to be found on the 2020 Acura RDX.
Learn More About the INFINITI QX50 From INFINITI of Mobile
To schedule a test drive or to hear more information about the 2020 INFINITI QX50, please don't hesitate to contact our INFINITI dealer serving the Mobile area today!