How to Read a New Car Window Sticker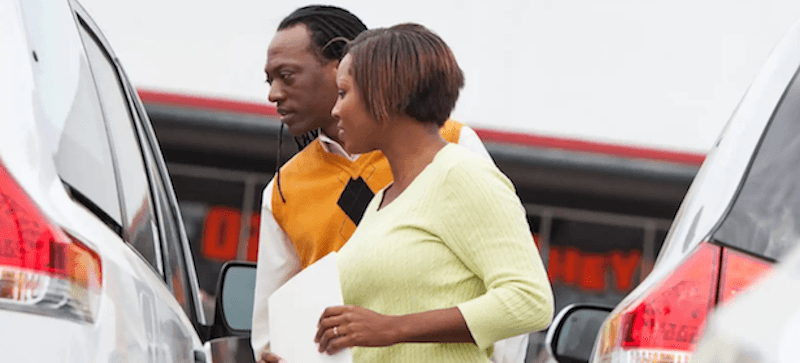 When buying a new INFINITI, you want to know the facts. You are probably asking yourself what you will be paying in total for a new car, how much you can anticipate to be spending on gas, and information on the manufacturer's warranty. Answers to all of these questions, along with others you may have, can often be found on the vehicle's window sticker.
You may be considering different models, and after a long day of shopping, the amount of information on the window sticker can become overwhelming. Our INFINITI dealer near Mobile can provide you with some helpful tips for pulling the important stats from each vehicle's sticker.
New Inventory
Know What You Are Looking For
The window sticker has information for all of the general specs for each vehicle. Here are a few things you might want to take note of when browsing.
Model information is typically located in the top left or right corner of the window sticker. Look here for the trim level, interior and exterior colors, as well as the engine and transmission.
Standard equipment lists everything that is included in the manufacturer's suggested retail price (MSRP), namely different safety, interior/exterior, convenience, and mechanical features. Find this info underneath the model information.
Warranty information is typically listed next to standard equipment, informing you what kind of repairs the manufacturer will cover during the initial years of ownership. You should also see any included roadside assistance here.
Optional equipment offers up any additional amenities that can be installed by the factory. Sometimes these are offered as part of a package or available to be added individually. Make sure to pay attention to package offers!
Pricing is also broken down on the window sticker, letting you know what types of options and fees may be part of your payments. You will also see the destination charge incurred by the manufacturer to transport the vehicle to the dealership, as well as any gas-guzzler tax for vehicles averaging less than 22.5 MPG.
Parts Content Information is listed on the window sticker to inform you where the vehicle was manufactured. This portion can be particularly helpful for those looking to "buy American."
Total price is listed separately from the pricing breakdown, showing the MSRP for the vehicle; this is useful to know when starting negotiations with a salesperson.
Fuel economy labels and QR codes let you know what a vehicle's fuel efficiency looks like. The label will list city and highway MPG, or a combination of both, and scanning the QR code can connect you to a page that provides more fuel-economy information from the Environmental Protection Agency (EPA).
Safety features are one of the most important aspects to consider when purchasing a vehicle, so be sure to check this out. Typically on the right-hand side of the sticker, you will find a star rating from the National Highway Traffic Safety Administration (NHTSA) and/or the Insurance Institute for Highway Safety (IIHS). In the event that the NHTSA hasn't tested the vehicle you're reviewing, head to the IIHS website for more information.
Check Out Your Options at Our INFINITI Dealer Near Mobile
At INFINITI of Mobile, we are committed to helping you find the right vehicle for the right price. While navigating the Mobile and Fairhope roads, we know that you need a car that combines all of the features you are looking for. For more information, don't hesitate to contact us to schedule a test drive or find out more information about our inventory!
New Inventory