What is INFINITI InTouch?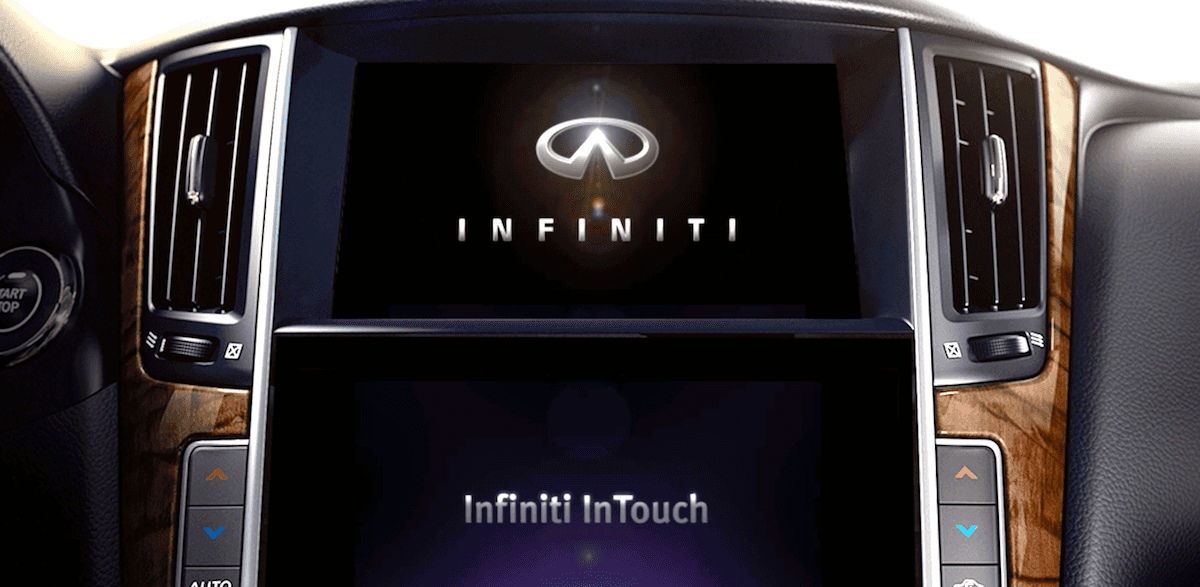 Technological innovation keeps the automotive industry moving forward, and our newest INFINITI models are equipped to make daily life and getting from place to place that much simpler. With INFINITI InTouch on your dashboard, you can rest assured it will be there to assist you in any situation. Wireless entertainment integration, navigation, and new safety and security features create an interactive platform easily activated through the sleek touchscreen or via voice command. Depending on the model you select, our INFINITI dealer near Mobile is here to help you choose which INFINITI InTouch technology package is right for you.
New Inventory
INFINITI InTouch Features
In an age where convenience is key, INFINITI InTouch manages to keep you connected with the swipe of a finger or a voice command. Included with every InTouch system is a three-month trial subscription to SiriusXM satellite radio, making it easy to listen to your favorite music genre or keep up with the latest sports game scores. With an InTouch equipped for navigation, allow the system to guide you from place to place while you stay focused on the road. With INFINITI Personal Assistant, receive the VIP treatment and let tech take it from there. Your Personal Assistant can schedule wake-up calls, provide product reviews and weather forecasts, or entertain you with trivia and research.
Design of INFINITI InTouch
Seamlessly integrated into the dash, the INFINITI InTouch system's color touch screen makes using technology a breeze. Use your phone to control your INFINITI, and customize your InTouch system with apps selected to suit your specific needs. Prefer to go hands-free? INFINITI InTouch also recognizes voice commands thanks to a button on the wheel that connects to the system. Easily send a command to your INFINITI to start your car or flash its lights with an Amazon Alexa-enabled device or Google Assistant. It's that simple.
Benefits and Convenience of Using INFINITI InTouch
Feel safe, secure, and connected with the INFINITI InTouch system. Forgetting to lock your car doors is an inconvenience of the past, as the new INFINITI InTouch app allows you to lock or unlock your vehicle remotely, even when you don't have your keys handy. Also take advantage of vehicle monitoring features such as Valet and Max Speed alerts stay confident that your vehicle isn't taken for a joyride when you hand the keys over and receive an alert if the speed surpasses the max threshold you have set.
Finding Your Perfect INFINITI InTouch-Equipped Vehicle in Mobile
Ready to take the next step and explore all that INFINITI InTouch has to offer? Contact us at INFINITI of Mobile for more information or to schedule a test drive today!
New Inventory